BREAKING NEWS: Sahin on brink of completing Liverpool move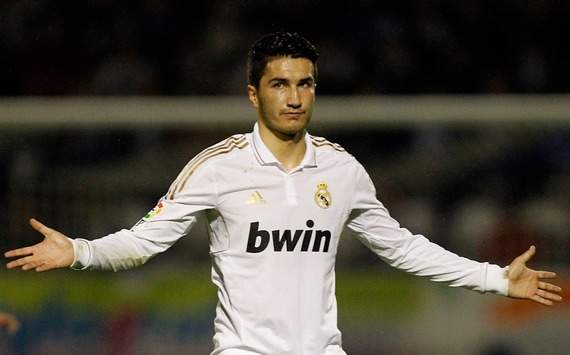 :BREAKING NEWS: Sahin on brink of
completing Liverpool move
The Real Madrid midfielder is due at the club's Melwood training ground on
Friday to undergo a medical after manager Brendan Rodgers revealed the
paperwork has been finalised
Liverpool manager Brendan Rodgers has revealed that the club hope to complete the loan
signing of Real Madrid midfielder Nuri Sahin within the next 24 hours.
The Turkey international is expected to undergo a medical at the club's Melwood training
ground on Friday, after terms were agreed over a season-long switch.
"We hope that will be complete. I believe from the club that everything has been organised
and sorted in terms of paperwork. So we're hoping in the next 24 hours it can be done,"
Rodgers told reporters.
The Reds were previously believed to have given up hope of signing Sahin, following
reported interest from Arsenal and the Madrid man's preference for a Champions League
club.
However, it appears a last-minute change of heart from Gunners boss Arsene Wenger
regarding a permanent deal at a later date has swung negotiations in the Merseyside
outfit's favour.
And Rodgers praised his latest acquisition, adding: "He's a great technician. He was the
player of the season in Germany and was the captain of [Borussia] Dortmund.
"[He] was fantastic at a very young age and got a move to Real Madrid and obviously
through injury it hasn't quite worked out for him.
"He's a wonderful player technically and tactically, he understands the game and we hope
that his extra bit of quality coming in will really help the group."