Fast and Furious 6 : The Rock Unveils His and Gina Carano's First Look
::::::Giving a special treat to his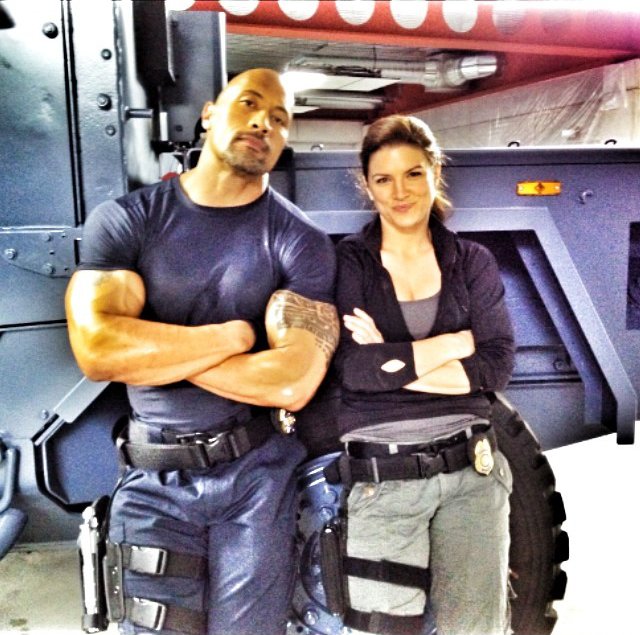 fans, Dwayne "The Rock"
Johnson has just unveiled a
first photo of himself as
Luke Hobbs in his upcoming
film "Fast and Furious 6".
The wrestler-turned-actor
takes to his Twitter and
shares a picture of him in
full costume along with co-
star Gina Carano, who plays
a member of Hobbs' team.
Flaunting his killer arms, The
Rock dons a tight blue shirt
with matching pants complete with a gun holster. Carano
matches his fierce look with gray top under her black jacket
and a gun holster strapped in her thigh. " 'Beast & the
Beauty'.. Me & my FAST 6 partner in ass kickins (and fun)
@ginacarano #BadAssChick," so the muscular actor writes
along with the picture.
Directed by Dustin Lin, the "Fast Six" will be shot in the U.K.
and Germany. Words are, the sixth movie will be shot back-
to-back with the seventh one. Joining The Rock and Carano
are Vin Diesel, Joe Taslim, Paul Walker, Jordana Brewster,
Tyrese Gibson, Michelle Rodriguez and Luke Evans.
The high-octane movie has been scheduled to arrive in the
U.S. theaters on May 24, 2013.