Pictures: Rihanna Wears Pajamas to Jay-Z's 40/40 Grand Opening at the Barclays Center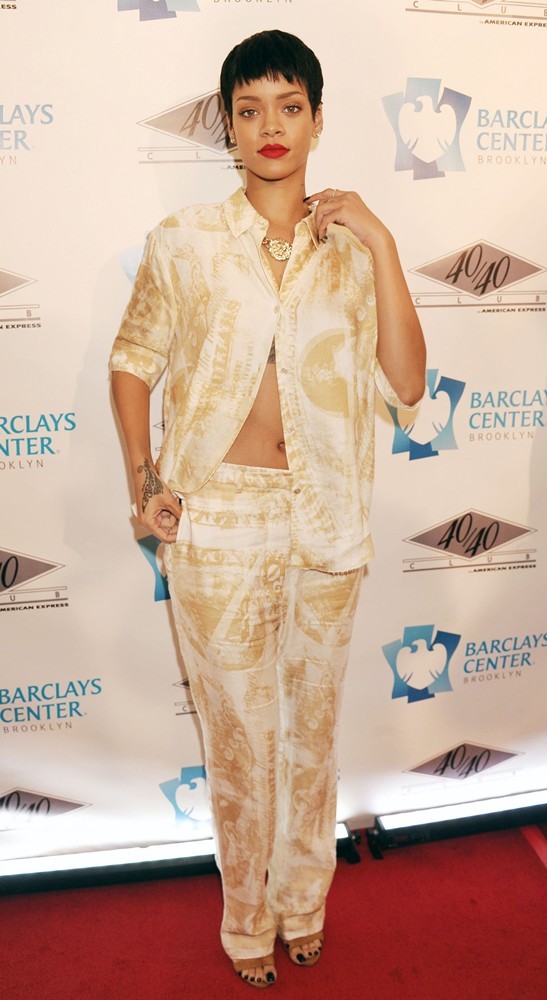 Rihanna had a rather unusual fashion
choice when attending the grand
opening of Jay-Z's 40/40 club at the
Barclays Center. The singer, who's
dubbed 2012 fashion risk taker by
PEOPLE, donned a silk pajama-styled
printed number from Acne's Resort
2013 collection.
The Bajan singer elevated her look
with a daring red lipstick, a dark-
colored nail polish and a pair of
camel-colored Manolo Blahnik
sandals. She was joined by other
celebrity guests including Adrienne
Bailon who opted for a nude top with
black embroiders and long black skirt.
In addition to housing Jay-Z's club, the
Barclays Center boasts 101 luxury suites, four bars and
lounge destinations, and eight retail shops. It will also open
its doors to Justin Bieber, Lady GaGa, Rihanna, Green Day
and Barbra Streisand for live concerts.
The Hov proudly called the venue "the American dream." He
gushed, "That whole thing that you could come here and pull
yourself up by the bootstraps, like that whole thing what
America has always put up to the world that we represent. I
feel that. Yes, I've lived that."
He will officially christen the multi-billion dollar complex in
an eight-night live concert starting Friday, September 28.