FULL PHOTO: Kate Middleton Greeted by Topless Woman Amid Photo Scandal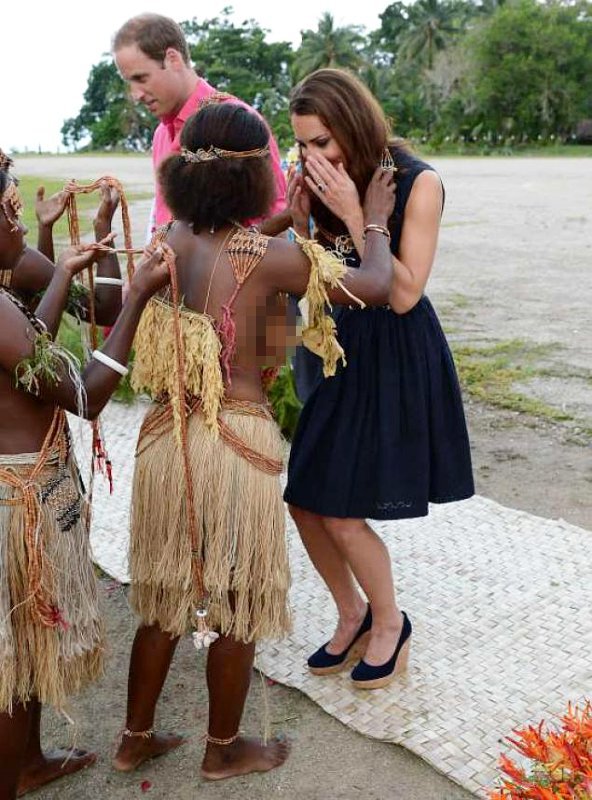 As her topless pictures were
published in Europe, Kate
Middleton found herself in a
situation that hit close to home
in Marau, Solomon Islands. The
Duchess of Cambridge and her
husband, Prince William, got a
warm welcome from several
topless women wearing
traditional attires.
While the royal family was
unhappy that her topless
photos taken during a vacation
in Province made their ways
out, Kate didn't seem to mind
the topless greeting. In fact,
she smiled when given a
traditional necklace and looked amused when seeing a
topless sculpture of a female figure.
Kate and William are taking legal action against French
tabloid Closer, the first magazine publishing her topless
pictures. Despite the lawsuit threat from the royal family,
Dublin-based Irish's Daily Star and Italian magazine Chi
followed Closer's footsteps.
"She's not our future queen," Daily Star's editor Mike O'Kane
told BBC. "The duchess would be no different to any other
celeb pics we would get in, for example Rihanna or Lady
GaGa." He was reportedly suspended over the decision to
publish the pictures.
Meanwhile, lawyers for Britain's royal family will go to court
in France on Monday, September 17 to stop further
publication in that country. They would seek an injunction in
a Paris court against media group Mindadori that published
Closer and Italian's Chi.