Report/Photo: Britney Spears Suffers From Psoriasis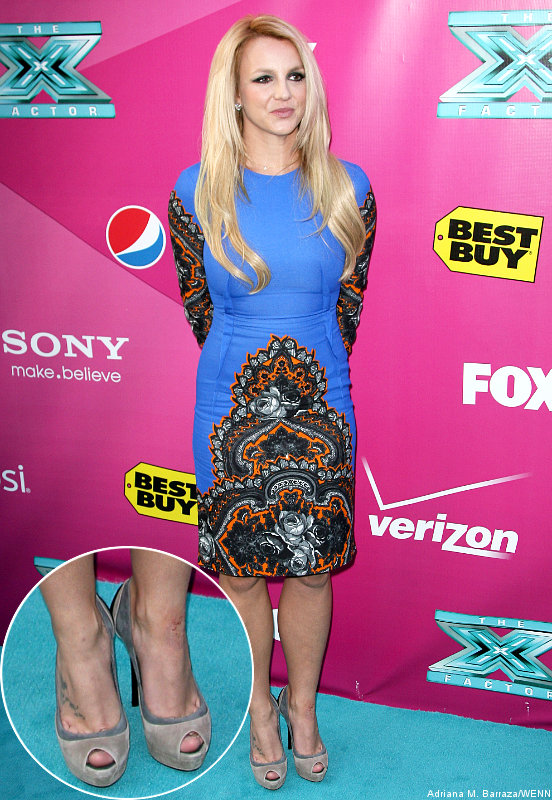 Rumor has it, Britney Spears is
battling psoriasis. According to
National Enquirer, she has
battled the embarrassing skin
condition for quite a while and it
gets worse after she becomes a
new judge on "The X Factor
(US)". The TV gig allegedly has
stressed her out.
"Britney has had the skin
condition for a long time, but it
only flares up when she's under
extreme pressure," a source
says. "Now she can't seem to
stop scratching and picking at
the sores. She has a psoraisis
skin cream, but she says it
burns, so she stopped using it."
In a premiere event of the singing competition at Grauman's
Chinese Theatre in Los Angeles on September 11, Britney
was spotted showing red patches on her right ankle and left
heel. Back then, she wore peep-toe heels and a blue tight-
fitting dress with floral pattern details.
Britney hasn't commented on the rumor. Instead, she
tweeted about the Greensboro auditions of the "X Factor"
that aired recently. "The storm that's coming... y'all!! It was
terrifying! Scared me half to DEATH," she wrote. "Pardon my
french there, but I hope u all enjoyed that!"
The southern belle was caught on camera screaming and
swearing when loud thunders boomed during Krysten Colon's
audition. "Are you okay?" a giggling Demi Lovato asked the
terrified star who exclaimed, "That was f***ing scary as hell.
We need to get out of here."
The judges couldn't just walk off though since there was
Krysten on stage waiting for their decision after she got a
second chance to impress them. When the judges said no,
she got mad and threw a tantrum backstage including
attacking the cameraman.
© AceShowbiz.com