Kanye West Fuming When Asked About Kim Kardashian's Ex- Boyfriend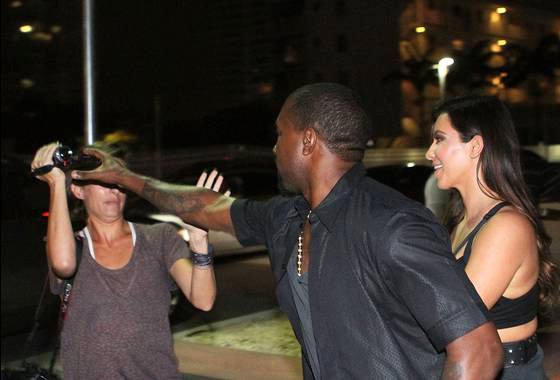 Kanye West lost his cool
when asked by a female
paparazzo about Reggie
Bush who once dated Kim
Kardashian. The G.O.O.D.
Music rapper tried to grab
the shutterbug's camera, but
his reality TV star girlfriend
held him back while still
maintaining a strained smile
to the camera.
Kanye and Kim were just leaving the Ocean Drive restaurant
Prime One Twelve when the shutterbug said Reggie
happened to have dinner with his pregnant girlfriend Lilit
Avagyan in a restaurant nearby. "Did you want to go and
congratulate him on his pregnancy?" she asked the rapper.
Kanye didn't say anything but quickly advanced toward the
paparazzo. The scuffle ended briefly after it started, and the
couple drove away without any further incident. "It's true. He
is over there. Maybe you guys will have a baby soon," the
female shutterbug said. "I'm sorry Kanye, it's just my job."
Kim dated Reggie on and off before she started seeing Kris
Humphries and finally married the basketball player in 2011.
Reggie himself has been dating Lilit for over a year and
announced her pregnancy earlier this month. "I look forward
to it and to building a family," he gushed.: