PHOTO: Kim Kardashian Shows Off Sexy Halloween Costume
As Halloween is fast
approaching, it looks like
that Kim Kardashian is busy
finding the best suit for the
celebration. She posted on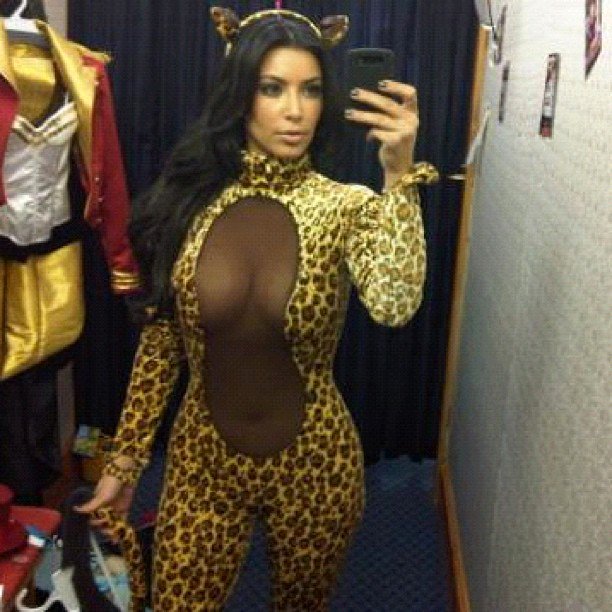 Instagram a picture of
herself wearing a leopard
Halloween costume and the
animal ears headband in a
fitting room. The sheer
material shows off her toned
belly and cleavage.
She wrote down on Twitter,
Friday, October 12,
"Rawwwr!!! Halloween Costume shopping." It's unclear
whether or not the costume was the one she chose for the
Halloween party. In 2010, she also tried on a similar leopard
costume. Back then, she tweeted, "This leopard was a little
too sexy for the kitties!"
The "Keeping Up with the Kardashians" star seemed excited
to celebrate Halloween. She commented on one of her fans'
pictures on Friday's Twitter, October 12, "OMG amazing!" The
female fan dressed up as the actress, while the fan's male
friend posed as Kim's boyfriend Kanye West.
The actress liked to show off her Halloween costumes to her
fans. In 2010, she wore Little Red Riding Hood costume while
his friend Jonathan Cheban was dressed as a big bad wolf. In
2011, she posted a photograph of her red-haired self in
Poison Ivy costume. She tweeted, "Sneak peak of my Poison
Ivy costume!!!"
Kim was rumored to be involved in "Big Boss" season 6, an
Indian reality TV show, but she denied it on her Twitter, "Not
true sorry!" The truth was she appeared in some TV series
such as "Last Man Standing", "30 Rock", and "Punk'd".: