Amber Rose Reveals First Photo of Her Baby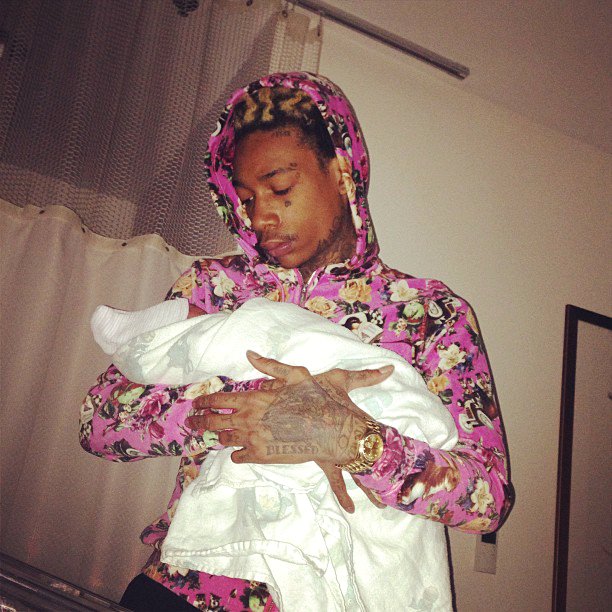 Amber Rose shared the first
picture of
her baby Sebastian Taylor Thomaz with fiance Wiz Khalifa. The picture posted on Instagram on Friday, February 22 shows Wiz wearing pink flowery jacket
and holding
baby Sebastian who is wrapped in a white blanket. The baby's face, however, can't be seen in the photo.
The new mother also wrote praise for Wiz for helping her take care of the baby, "Best daddy ever.... Up with the baby so Muva can go back to sleep." Soon afterwards, she wrote another tweet, "I wanna thank my Rosebuds & Rosestuds 4 holdin it down during my pregnancy Sebastian has so many bros & sisters in u guys I luv u all -Muva."
Wiz thanked fans and gave updates about the baby at the same day, saying, "Thanx for all the love guys. Bash took his first poop, had a good meal now he's peacin." He also talked about Amber, "My wife sed she juss wants a jacc & coke, a cheesesteak, and a ciggarette :-) Thass why im marryin that woman!"
Baby Sebastian was born on Thursday, February 21. The proud father announced his birth on Twitter, "Happy Birthday Sebastian 'The Bash' Taylor Thomaz!. Everyone welcome this perfect young man into the world."
Rihanna and Snoop Dogg wrote congratulatory message to the couple on Twitter. Rihanna wrote, "Congratulations to my fam @mistercap and @muvarosebud!!! Welcome baby Bash! You're born in an exquisite month #babypisces." Meanwhile, Snoop tweeted, "Welcome 2 fatherhood mistercap!!! Congrats 2 u n @darealamberrose on ur new son ... Bless up."