Jay-Z Opens His 40/40 Club at the Barclays Center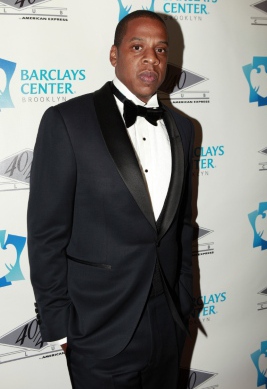 :Jay-Z threw a star-studded grand
opening party of his 40/40 club &
restaurant at the brand new
Barclays Center in Brooklyn on
Thursday night, September 27.
Looking dapper in a tux and
bowtie, the rapper welcomed his
close friends and family to the
hot spot.
The likes of Rihanna, J. Cole and
Lyor Cohen were spotted
supporting him at the launching
party. It took place one day
before the Jiggaman officially
christened the multi-billion dollar
complex in an eight-night live
concert starting Friday.
"I walked around here earlier and I just seen everybody busy
and at work trying to finish up and it was a great feeling," he
gushed. "A guy stopped me in the hallway and said, 'Man
this is a great thing for New York City.' And that's what the
whole thing was about."
"Yeah I think I'm the American dream," he added. "That
whole thing that you could come here and pull yourself up by
the bootstraps, like that whole thing what America has
always put up to the world that we represent. I feel that. Yes,
I've lived that."
The Barclays Center boasts 101 luxury suites, four bars and
lounge destinations, three clubs, and eight retail shops. It
will house concerts by Justin Bieber, Lady GaGa, Rihanna,
Green Day and Barbra Streisand, and various sport events
like college basketball and boxing events.